The only family she has left is her baby born of rape: how a refugee's motherhood triumphs over her trauma
November 21, 2018
Posted by:

WebAdmin

Category:

News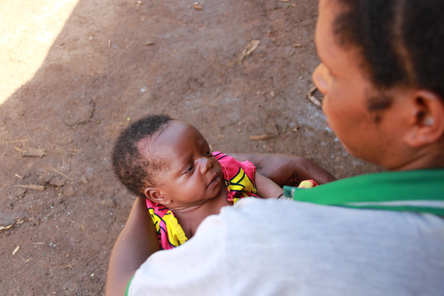 Mafi* is holding her tiny new born in her arms, as she puts her hand gently on her little tummy. What most people do not know is that a part of her daughter reminds her on her worst days in the Democratic Republic of Congo. Shortly before fleeing from home, four armed men had raped her. One of them is now the father of her child. Two days after giving birth to her, she recounts her horrific story in front of her small plastic sheeting tent on a hot and humid afternoon in Kyangwali refugee settlement. Mafi is one of over 288,000 Congolese who fled DRC to seek refuge in Uganda.
They followed me into the forest. I went to get fire wood when the four armed men suddenly attacked me. I screamed at the top of my lungs for help but no one heard me, no one came. They pushed me to the ground and I immediately knew what their intention was. "Kill me", I shouted to them, because I would have rather died than being raped by them. They did not listen to me. They took their turns, one after the other, until I fell unconscious from the pain. 
I woke up in the hospital. The nurse told me that villagers found me in the woods, my body covered in blood, and brought me to the main street. Luckily, a police car drove by that moment and brought me to the hospital.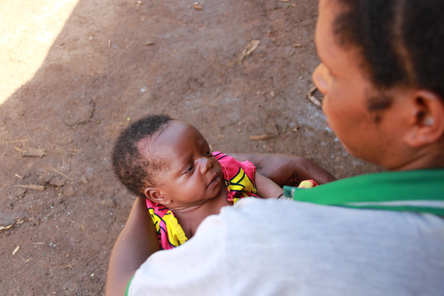 A young woman holds her new born in her arms
The doctors were very nice and kept me there for a few weeks to recover. During the first few days, one of them told me that I was pregnant. My heart skipped a beat and I felt panic rush through my whole body. I remembered how I had lost three of my own children due to sickness, unable to provide for them. I knew I had to keep the baby.
 
I felt like I was only person in the world who had nobody. Armed men had killed my family members and burned our house when I was 5 years old. The pastor's wife in our village took me in and raised me. I got married when I was 15 years old and decided to leave them, not wanting to be a burden anymore. But then rebels also killed my husband and after losing my children I found myself alone once again. 
I had to run. As soon as I was released from the hospital, I realized that I had to flee in order to save my life and that of my unborn child. In my village, I saw how many families walked towards Lake Albert and I decided to join them. I only took the radio along with me from home because I knew I would need it to pay for the boat ride. It took me almost two weeks to get to Uganda. At one of the roadblocks, I met a former friend of my husband. He gave me some water and a little bit of money to survive the journey. About three months ago, I made it to Uganda.
I was helpless. Having left everything behind, I did not know how to raise my baby without any income and limited amount of assistance. But then I met Esther. She works with CARE and is an angel to me. She asked me questions, listened to my story and gave me hope again. She even took me to the hospital during my pregnancy and brought clothes for my baby after I gave birth to her. I never thought anyone could be so nice to me. There is no way for me to show her my appreciation. But I named my baby after her. Her name is Esther. 
My child is innocent. She is not responsible for the sins of her father. My biggest wish is to be able to provide for her. Although life is better here in Uganda, I still do not know what the future will hold for us. But now, at least I have faith. 
*Name changed to protect identity