Bracing On With A Hopeful Life Beyond GBV Experiences
September 28, 2023
Posted by:

WebAdmin

Category:

Blog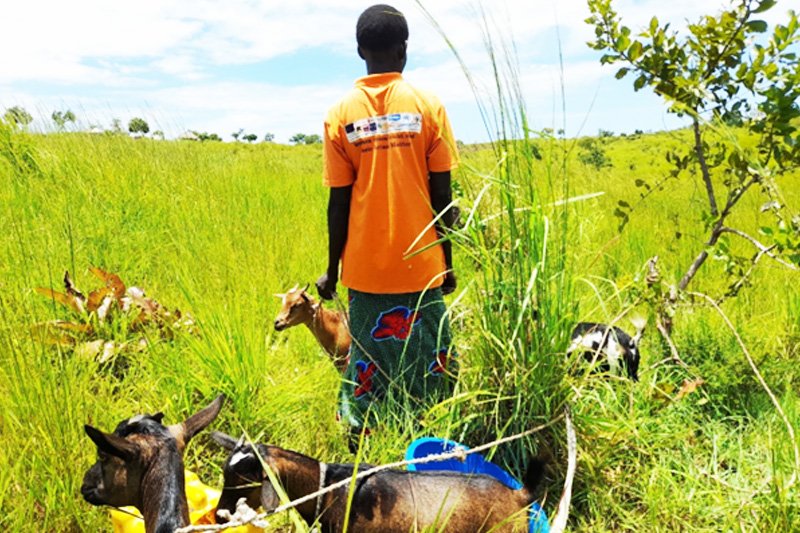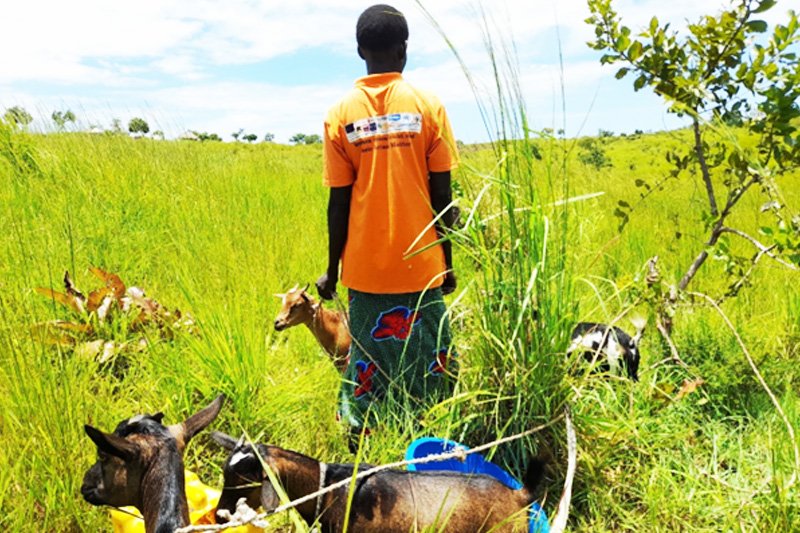 Mary feeding her goats – Image above
Mary is a 37-year-old single mother of six children who fled the South Sudan conflict in 2019 to seek refuge in Uganda. Mary and her children currently reside in Zone 3 village 9 in the Imvepi refugee settlement, in Arua District, Uganda. She is the sole caretaker to all her six children after the husband abandoned the family. The abandonment occurred after he discovered that Mary was HIV positive while he was HIV negative leading to constant disagreements in their home and gender-based violence.
"My life became so hard because I didn't know where to start. My hope was on this new husband, thinking he came into my life to support me in taking care of my five children whose father died and the sixth child that we had together." Mary narrates.
Mary was on the verge of ending her life for multiple reasons including, abandonment by her husband, insufficient food rations provided by the World Food Programme (WFP), and loneliness due to her health status.
"I used not to attend any community gatherings or access markets or Health facilities for fear of people pointing fingers at me. I didn't take medicine in time because we used to eat only once a day just for survival and yet there was a need for me to eat enough food in time to boost my immunity. My five children were always chased from school due to lack of (Parents Teachers Association) PTA contributions and scholastic materials. I was not engaged in any livelihood activities to improve my household income to support my basic needs, health, and education for my children. I just turned to God and said why me".
During one of CARE's routine community awareness sessions on GBV prevention and response in village 9, Zone 3, Mary was one of the survivors who was informed about the existence of GBV referral pathways and how the referrals respond to various protection needs. It was at that point that Mary gathered courage and reported the GBV issues affecting her to CARE International at the protection help desk in Village 9. Mary received comprehensive case management support and was informed about a range of protection services offered under the APEAL Consortium Project funded by European Union Humanitarian Aid.
This enabled her to identify her protection needs and was supported with a referral to the APEAL Consortium Partners and other EU Humanitarian Aid funded Consortia to access more support.
Firstly, War Child Holland supported her with Mental Health and Psychosocial Support (MPHSS) followed by the International Rescue Committee (IRC) with health support. She agreed to start Anti-Retroviral (ARV) therapy which the health workers delivered to her home because she didn't have transport to go to the health facility. The home delivery further reduced her stigma.
"I felt relieved and was able to think of available options to come out of my problems after the counseling sessions from CARE. My health also improved after referral to IRC who counseled me and later started delivering my drugs home."
After receiving several counseling sessions, Mary willingly joined the Women Lead in Emergency (WliE) group where women point out key issues that not only affect them but hinder them from meaningful participation in leadership and decision-making.
She reports; "I was able to join the Women Lead in the Emergency group supported by CARE after explaining to me the importance of the WliE approach, and how it empowers women to effectively participate in household/ community decision-making by engaging in livelihoods-focused Interventions''.
She uses this platform to raise the voices of women and acts as a role model taking the lead in counseling group members who experience GBV issues in her community.
The team continued to follow up with home visits to support her recovery from trauma and boost her ability to cope accordingly. During the home visits, she requested to be supported with dignity kits, Education requirements, Health/nutrition support, and money or livelihood support to improve her household income.
CARE provided her with a dignity kit and referred her to the Uganda Cash Consortium (UCC) led by the Danish Refugee Council (DRC) to access multipurpose cash assistance to enable her to meet basic needs. Mary has so far received cash assistance worth UGX 1,928,000 cumulatively for the last eight months which has changed her life. "I was supported with a dignity kit by CARE. This contained soap, a bucket, and bed sheets. I was then referred to the Uganda Cash Consortium by DRC and indeed It was successful. I started receiving multipurpose cash assistance from August 2022 up to April 2023 on my mobile money phone. I feel empowered with the cash assistance I receive every month since I can buy school uniforms, scholastic materials, PTA, and nutritious food for me and my children. I used part of the money to start a 'mukene' (silverfish) business which is providing an alternative source of income for my family. I thank ECHO for all the support given".
Through the business, her family can have at least two meals per day, pay PTA for all the children at school, and purchase scholastic materials including school uniforms. This support has also enabled her family to alter their diet and save some money for unforeseen future needs.
She bought three goats which have since reproduced and rented an acreage of land from the host community where she planted sorghum for both domestic consumption and for sale. Mary projected harvesting five bags of sorghum estimated at 180,000ugx per bag.
She opted for on-farm and off-farm businesses targeting customers within the village after she was referred to Afrika Uganda, an organization that trains farmers at the village level.
"I now request ECHO and other partners to extend the same support to other vulnerable groups especially women and girls given the reduction in food ration and the high rental fees charge for hiring land by the host community. I can't wait to appreciate ECHO for all the support given to me and other refugees. My life and health have greatly changed because of all this support." She concluded.
With generous support from the European Union Humanitarian Aid funding, approximately 317,604 refugee persons and host communities in Northern and South Western Uganda have benefited from the multi-sector life-saving protection services by the Access Protection Empowerment Accountability & Leadership (APEAL) consortium.
The Consortium membership consists of 10 Organizations spread out in various locations including Kyaka II in Kyegegwa District, Kyangwali in Kikuube District, Imvepi in Terego District, and Nakivale in Isingiro District. Additionally, transit sites such as Nyakabande, Matanda, Bubukwanga, and Sebagoro have also been included in the program. The Consortium members include CARE as the lead, Save the Children International (SCI), War Child Holland (WCH), Humanity and Inclusion (HI), International Rescue Committee (IRC), Transcultural Psychosocial Support Organization (TPO), Days for Girls (DFG), Community