International Women's Day Stories 2021
March 8, 2021
Posted by:

WebAdmin

Category:

News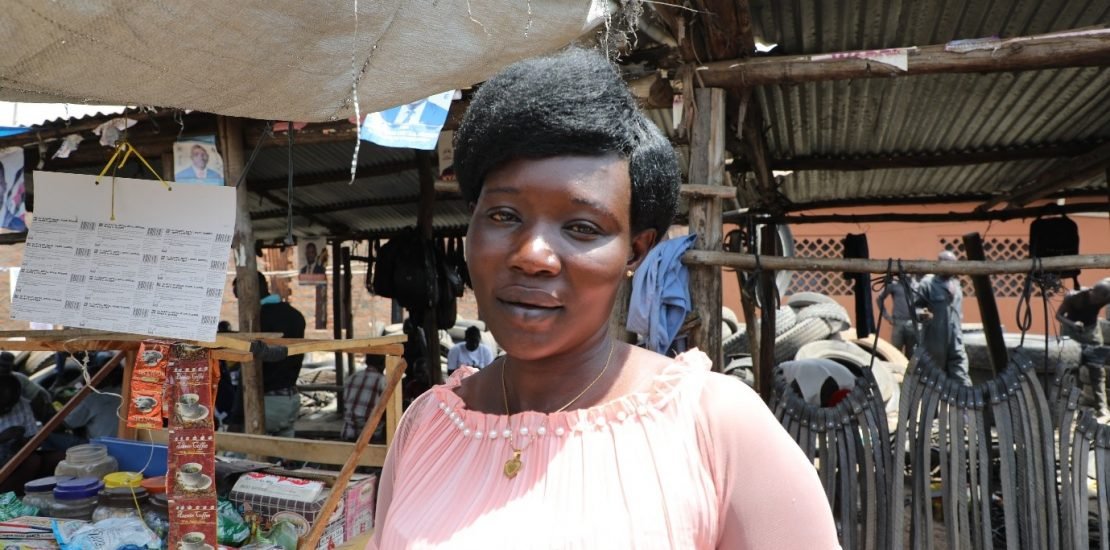 Harriet overcomes her qualms to become one of the women leaders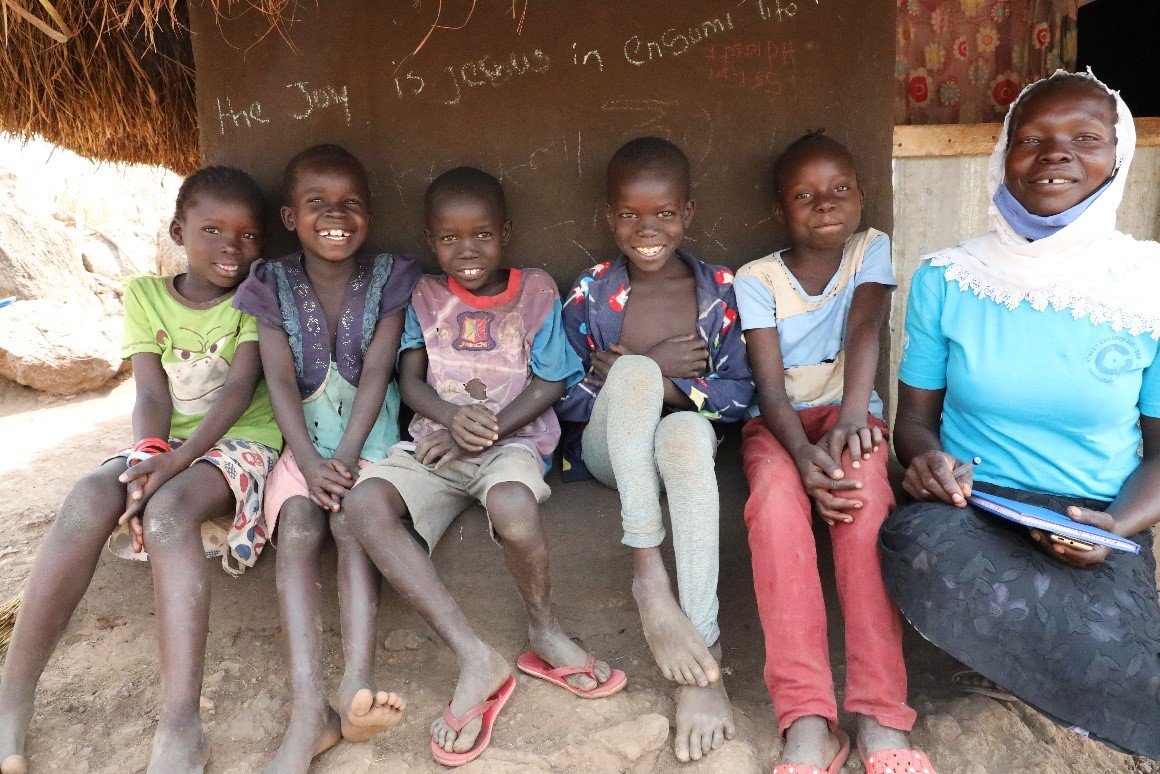 Harriet Gire aged 26, is a South Sudanese Refugee and a mother of five children including two dependants she fled along with due to the war in 2016. Harriet was resettled with her children in Village 5, Omugo zone in Rhino Camp settlement in Terego District and the periodic food ratios distributed by the UNCHR became their lifeline.
Unfortunately for her, in the early days of resettlement, during one fateful food distribution day, Harriet's food ration was stolen by an identified person and that was the genesis of all her troubles. Harriet narrates how she isolated herself and was on the verge of a mental breakdown but managed to beat all odds to become one of the women leaders and a role model for young women in her community thanks to CARE's Women Lead in Emergency Component.
"I studied up to senior three but dropped out because of school fees and got married instead. However, when the war started in 2016, I fled with my old mother and my children but left my husband behind and I have never heard from him again. When I reached here, I was full of trauma because of the war experiences where I had witnessed our people die. What made matters worse was when someone stole my food ration. I asked myself what I had done to deserve this because all our lives depended on that food. I wondered what was going to happen to me and the children before the next distribution. This hit me hard and I stopped interacting with people and isolated myself. I was buried in deep thoughts. Sometimes I could follow the road not knowing where to go and end up at the border of this camp without releasing how much I had walked".
According to Harriet, this went on for several months and that become her routine and feared coming in contact with anyone and isolated herself from the rest of the members including prayers, something that she had previously considered vital in her life. Fortunately for her, someone was watching. The Chairperson (by then) of the South Sudanese Refugee Women Association (SSRWA); Nadia Roselyn approached her and little did she know that this was going to be the turning point of her life in months to come. and that she was to take after Roselyn's footprints.
"I used to think that whoever comes to me was coming to fight or kill me but Nadia came and talked to me. She told me to try and forget all the past things that had happened to me and advised me to join a savings group that would help me to improve myself through information sharing. In July 2019, I joined the South Sudanese Women's Association which has 30 members. When I joined the group, I realized I was not the only one with problems, there were many other people traumatized as well".
Interestingly and as luck had it, Harriet was elected the Vice-person and in few months, she was seconded to lead the group with the absence of her Chairperson. "Roselyn was elected again as the Chairperson of the group and I was elected as her vice however like most women, I was too fearful and did not have the confidence to speak in front of people during meetings. What made matters worse, when Roselyn went back to South Sudan, I was elected as the Chairperson since I was her vice but I had no idea on how to lead and that's how CARE came in. CARE came during that time and organized for us several pieces of training on different things like how to become a leader and the skills one needs, finance, starting businesses. It was from the trainings that I learned a lot on how to lead the women. I also started a business of weaving and knitting. I started to talk without fear and I am now confident. I can manage to solve issues around gender-based violence. Couples come to me to meditate and I can say the community has changed a lot through my leadership.
There was a lot of tribalism which cause many fights here and I forwarded the issues to OPM &UNHCR and they are over, Firewood and land used to be a problem. I organized dialogues with the host communities and they managed to give us land and at least we are surviving" reports Harriet.
"We also requested a literacy training as some other women did not know how to write including their names and our request was granted. Other people who are not members of the groups have also joined to learn.
I have also enrolled Functional Adult Literacy in level 2 and I am grateful for the knowledge and skills that CARE has given me. I can now give counseling to young people and women and also teach the literacy classes once I am given the procedure. I now want to become part of the Refugee Welfare Committee (RWC) that I reach more people and support the community to stop GBV completely." Says Harriet
Between July 2016 and 2020, there was an influx of over 880,000 South Sudanese refugees in Uganda, and the vast majority were women and children. CARE with funding from Global Affairs Canada has been responding to the crisis in Omugo zone in the West Nile region through CARE's Women Lead in Emergencies approach since January 2019. This is a multi-sector program, including shelter, gender-based violence/protection, sexual and reproductive health and rights, and women's participation and leadership. In Omugo, the project supports four Women's Groups which include the South Sudanese Women's Faith Group; South Sudanese Refugee Women Association; Loketa Group now called Ngungi Kuyupet Women's Group, and Yoleta Women's Group. All the four groups are voluntary and have South Sudanese women refugees as leaders and members.
"I am not unless; I have the power to change other people..."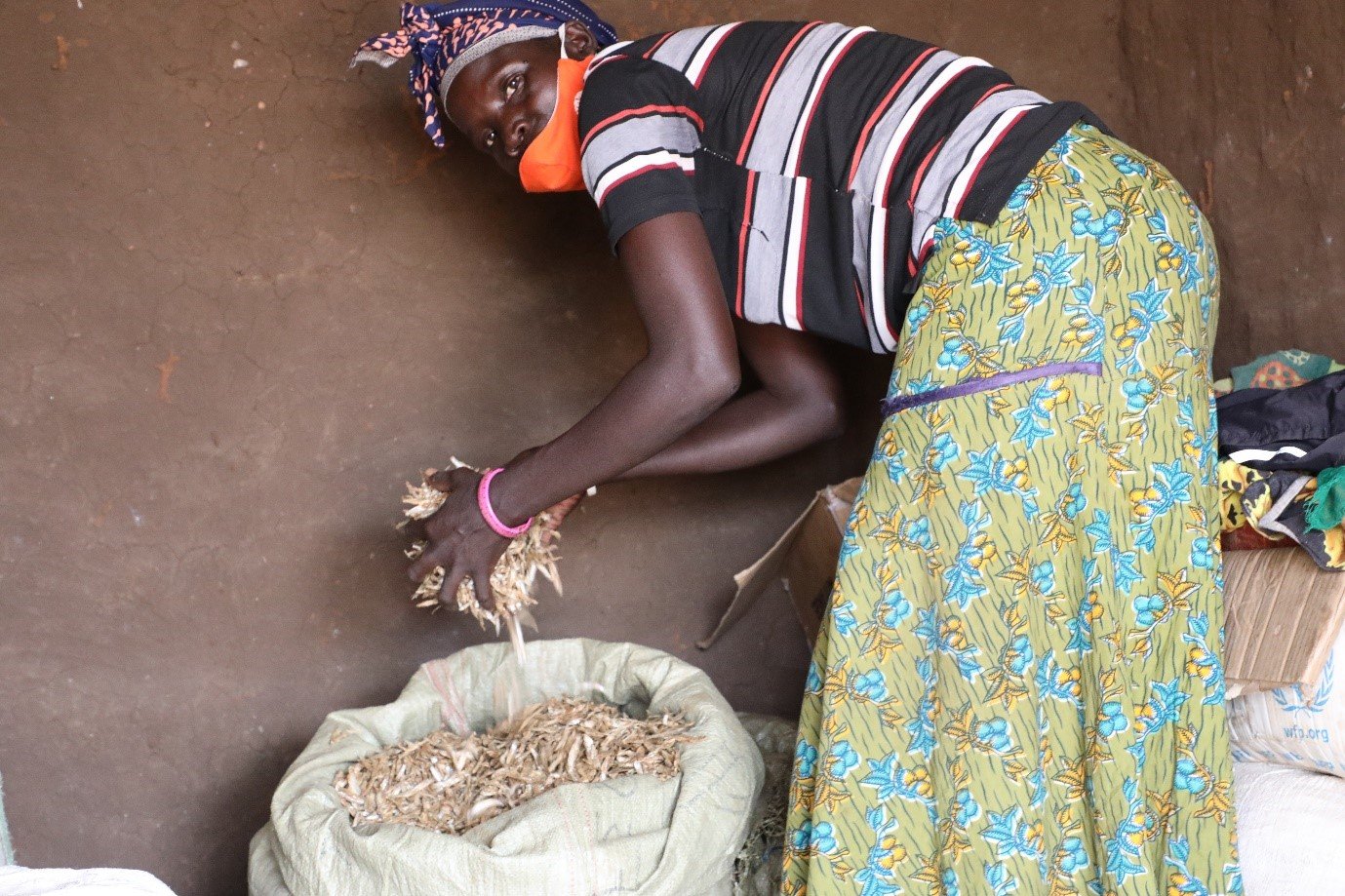 Like tales of most refugee women, Turpaina Nyoka aged 40, fled the war in South Sudan in May 2018 together with her seven children and was resettled in Village 5 in Omugo Zone of the Rhino Camp Settlement, Terego District. With nothing to supplement the food rations distributed by World Food Program (WFP) and United Nations High Commission for Refugee (UNHCR), Life was miserable and she felt useless. Fortunately for her, life took a new twist and she has never regretted. She narrates.
"Sometimes my children and I used to sleep hungry and other times we only ate greens without salt as we waited and looked forward to the next food distribution day. Life was hopeless; I had no idea on what to do, to sustain my family besides the food ration and I also felt useless with no value in the community"
According to Nyoka, her mind was only fixed on the food ration and never thought there was anything she could do to generate an income that could sustain her family however this changed when she came in contact with CARE's Lead in Emergency component. Nyoka is not only able to fend for her family but she is also among the women leaders in her community who are creating change.
"I got to know CARE through a friend who encouraged me to join the South Sudanese Women Association in July 2019. After joining the group, I wondered how I was going to manage to save every week when I could not even afford to buy a packet of salt in my house. However, I was lucky when CARE organized trainings almost the same time I joined. During the training, we were advised that we should save whatever little we have which would later help us as a start-up for our businesses. I attended four trainings which kept changing me each time. The transport allowance I was given to attended the trainings is what I saved to buy a few stationary materials that I started with but I have now changed to selling silverfish and charcoal. I am now able to cater for myself and we have never slept hungry again. When the business expands, I want to save and get enough money to take my children to study from abroad. I have no plans to go back home because there is no safe place protected by the United Nations (UN).
I am also the Vice person of our group where I encourage and lead fellow women in areas of family planning and support couples to Identify and refer cases of Gender Based Violence to the responsible people. I have now realized that I am not unless as I used to think but I have the power to change other women through my leadership roles. I am grateful to CARE because I have been empowered and I am a proud woman.". Explains Nyoka beaming with joy.
Nyoka is a member and Vice Chairperson to the South Sudanese Refugee Women's Association, one of the five women groups supported by CARE's Women Lead in Emergency component that is under that Global Affairs Canada project being implement in Omugo Zone of Rhino camp settlement.
Refugee women in Omugo make strides in voicing their issues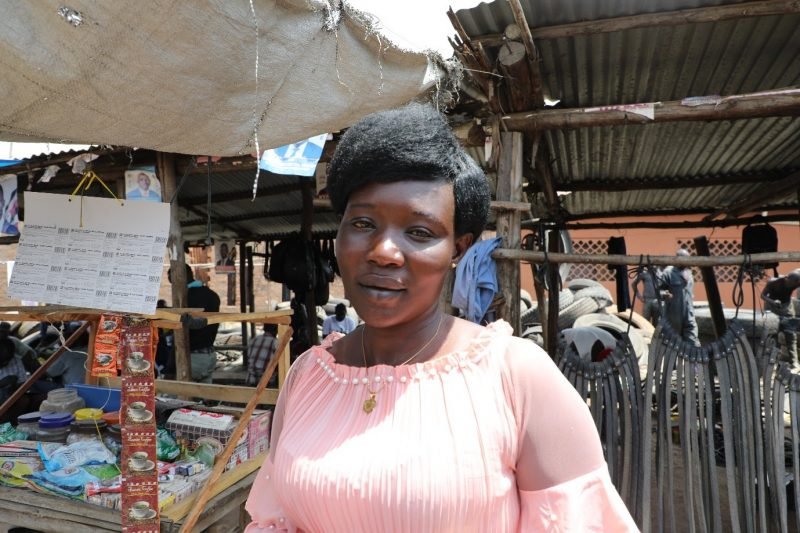 Thirty-year-old Halatu is a South Sudanese women's representative on the Refugee Welfare Committee (RWC-level 2, responsible for the zones) in Omugo zone in Rhino camp Settlement, Terego District, Uganda. She is a Primary Seven drop-out who was previously shy to take up any leadership position and thought it was the men's responsibility. However, when she came in contact with CARE through the Women Lead in Emergency component, her mind set was changed following a series of leader ship and skills' trainings.
By the time she was nominated and elected for the first time in 2018 by the community to represent women in the RWC -level1- responsible for the village), Halatu gladly accepted the role based on what CARE had taught her. Halatu has never looked back since then. She advanced to the next level and she is now the women's representative in RWC2 and is also the Chairperson in the Safe Space Management Committee. She narrates.
"As refugee women, we were afraid to take up leadership roles because most of us are illiterate and the language barrier problem. Most of us are not well educated; I dropped out of school and was shy to take on any leadership role. I couldn't stand and speak up in any meeting, I thought that was meant for the men. We had formed the Yoleta women's group which was good for our small savings and used to share personal experiences but we had nothing else bringing us together. However, when CARE came in, they bought us some equipment to use for our peanut-making business and also started training us on leadership, planning, business skills and gender-based violence referral pathway. They told us that even if we are not educated, we can speak and someone else will interpret for us because our voice matters and that silence will not solve anything. Through the trainings, I was able to gain courage and stand up for my fellow women.
With this courage and confidence, we decided to deal with an issue that was disturbing women of Omugo in Village 4. We used to walk for over 12kms to go to the food distribution point and by the time we returned, we were too tired while some women took two days to return home, and sometimes other women had to divide their ration to sell off and get transport back home therefore some women returned when the ration was halfway. Some women would get raped along the way because they had to wake up very early before day light to walk to the food distribution point.
All these issues led to gender-based violence in most homes. As a group, we took the issues to RWC1, RWC2, Police, Office of the Prime Minister, and United Nations Human Rights for Refugees (UNHCR). We reached all those offices with our complaints and luckily some partners were able to come on the ground to listen to us. They agreed to open another distribution point for us within the settlement where we currently get the food from and this reduced quarrels and fights in most homes.
Women also used to fear to report or talk about anything disturbing them but after the training, other women and myself went out to the community to create awareness and speak against any form of gender-based violence. We now tell people to come to the safe space and some men have also been able to join. We are solving issues as empowered women with a group supported by 30 role model men. Unfortunately, due to COVID, we are no longer meeting but move from door to door or they come to our homes.
In the past, I would only help my children and family but now I can plan and support other people as well because I can do so. The Idea of the shoe-making business I am currently doing, came from the group because I had to get money for saving weekly instead of depending on the food ration. I am now a proud woman who is empowered because I can voice other people's issues and also provide basic needs for my family. I am looking forward to when we shall have 50/50 representation in the RWC cabinet which is composed of 11 members". Reports Halatu.
The Yoleta group is among the five groups in Omugo settlement currently being supported by CARE through the Women's Lead in Emergency Pilot with funding from Global Affairs Canada. With CARE's interventions, most of the women who are mainly South Sudanese refugees have been empowered to voice their issues and start-up small businesses as alternatives to improve their livelihoods beyond the food rations.