EU Supported Disaster Risk Reduction Projects worth 2.9 Million Euro (over UGX 12.5Bn) launched
March 22, 2021
Posted by:

WebAdmin

Category:

News
CARE International in Uganda and Oxfam in Uganda have launched two Disaster Risk Management Projects worth 2.9 Million Euro (over UGX 12.5Bn) funded by the European Union Trust Fund for Africa (EUTF).
Over 839,750 people will benefit from the two projects aimed at improving the resilience of the Ugandan community members to the ever-changing climatic conditions and their adverse effects on the food and social-economic structures.
Speaking at the launch, the State Minister for Local Government Jenipher Namuyangu said, the EU support was handy and called upon all District Local Governments in Kamwenge, Kikuube, Isingiro, and Kyegegwa to work hand in hand with CARE and Oxfam. She said; "This support comes in handy to not only reduce risks in these communities but to build their resilience in handling disasters because they occupy areas that are prone to shocks yet they have limited capacity to adapt to the appalling situation. I, therefore, request all the four District Local Governments to provide all the necessary support towards the successful implementation of these two projects."
The projects will be implemented separately by CARE and Oxfam in Kamwenge, Kikuube, and in Isingiro, Kyegegwa Districts respectively.
The European Union Head of Cooperation, Caroline Adriaensen reaffirmed the EU's commitment to supporting Local Government efforts in response to the continuity of refugees by strengthening District capacities in critical areas such as national environmental management and service delivery. "Building the capacities of these Districts is not only meant to tackle current gaps but to respond better to emergencies in the future" Said Adriaensen. Apollo Gabazira, the Country Director of CARE International in Uganda, called for joint efforts to promote disaster preparedness and management systems that safeguard the country from disasters to ensure sustained progress towards middle-income status.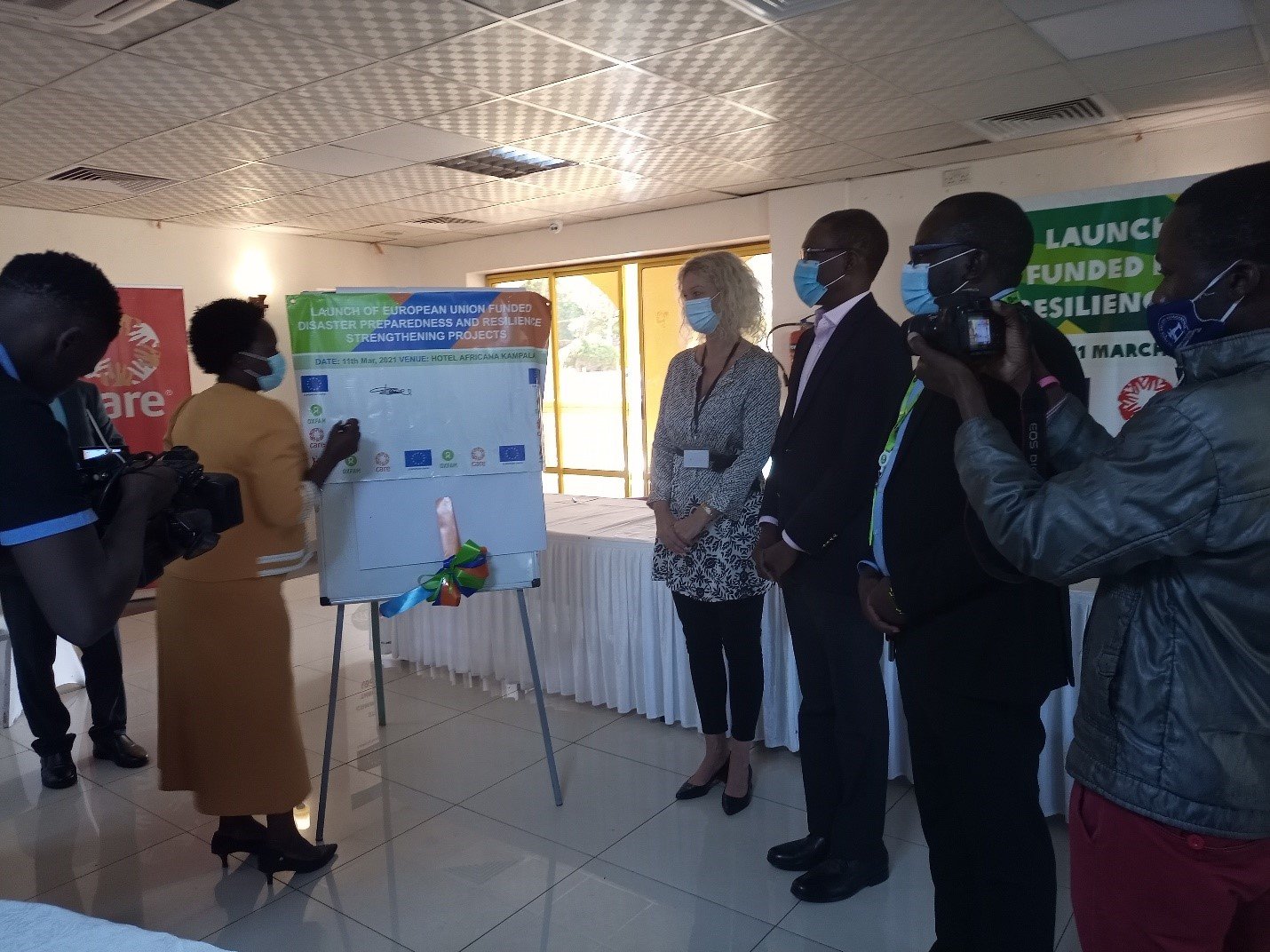 Left: Hon Minister Jenipher Namuyangu launching the two EUTF projects. Right: Caroline Adriaensen, EU Head of Cooperation, Apollo Gabazira, CARE Country Director and Oxfam's Country Director witnessing the occasion.
Gabazira said; "Women and girls are massively impacted by disasters. Disasters have destroyed infrastructure and rendered people homeless and they have diverted our merger resources. Consequently, development is undermined. Without addressing the fundamentals, the drivers of disasters in this country, our ambition towards moving to a middle-income status will be curtailed"
Apollo Gabazira speaking at the launch.
He said; "This project will enable CARE Uganda to make strides towards fulfilling the target of building the resilience (to Climate Change) of 500,000 poor and vulnerable people (60% of them women), by 2025". CARE's project which is titled "Strengthening Emergency Preparedness and Inclusive Natural Resources Management in Refugee Hosting Districts" will be implemented for 33 months in the Districts of Kikuube and Kamwenge, within Kyangwali and Rwamwanja refugee settlements respectively, and the host communities. 
While Oxfam's 30-months project titled "Strengthening Resilience through enhanced Local Disaster Risk Management Capacities" will be implemented in consortium with partners Civil Society Budget Advocacy Group (CSBAG) and Joint Effort to Save the Environment (JESE), in Nakivale Settlement, Isingiro District, and in Kyaka II refugee settlement in Kyegegwa district.
Francis Odokorach, the Oxfam in Uganda Country Director said these actions will improve environmental governance through advocacy, environmental education, and influencing. "We shall achieve this through building on the currently running waste to value innovations projects, building the capacity of local actors and district staff, and most importantly, through interagency coordination. The project adopts the triple nexus approach – promoting interlinkages between humanitarian, development and peace interventions."
Building on the experience of the EUTF funded RISE project in Kikuube, CARE will work with partners to strengthen the capacity of both Kamwenge and Kikuube districts, in anticipating, planning for, and responding to disasters, including the promotion of peaceful co-existence between refugees and host communities. Drawing from its ten years' experience in Natural Resource Governance, CARE will support the restoration of degraded wetlands, forests, and bare hills, and strengthen the governance arrangements for these resources, in a gender transformative manner.
Over the last ten years, CARE has had a strong focus on Natural Resource Governance, strengthening accountability structures and mechanisms which empower citizens to have better access and control over natural resources. Through its humanitarian program, CARE has supported refugees arriving from South Sudan and the Democratic Republic of Congo in areas of sexual reproductive health, protection against gender-based violence, livelihoods, and renewable energy. For the next five years (2020 – 2025), CARE will work to enable 2 million people (60% women and girls) from the most vulnerable communities to overcome poverty and social injustice through its Climate Justice, Gender Justice, Livelihood, and Humanitarian Programs.