Escaping Violence in South Sudan, Women's Groups Offer Support
November 3, 2017
Posted by:

WebAdmin

Category:

News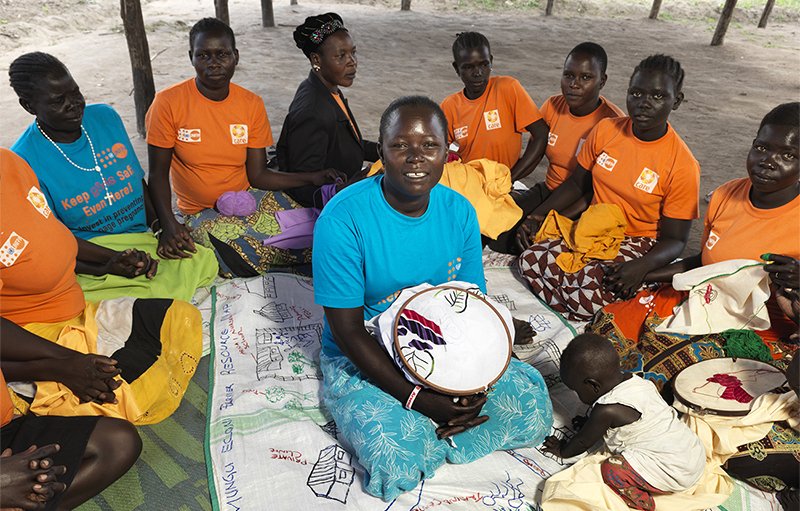 Since violence erupted in South Sudan in 2016, the number of people who have fled to safety in Uganda has exceeded one million. Where some countries turn refugees away, the Ugandan Government is welcoming them. CARE's Refugee Response Team Leader Carly Sheehan is in Uganda and shines a light on how, with support, refugees really can start again.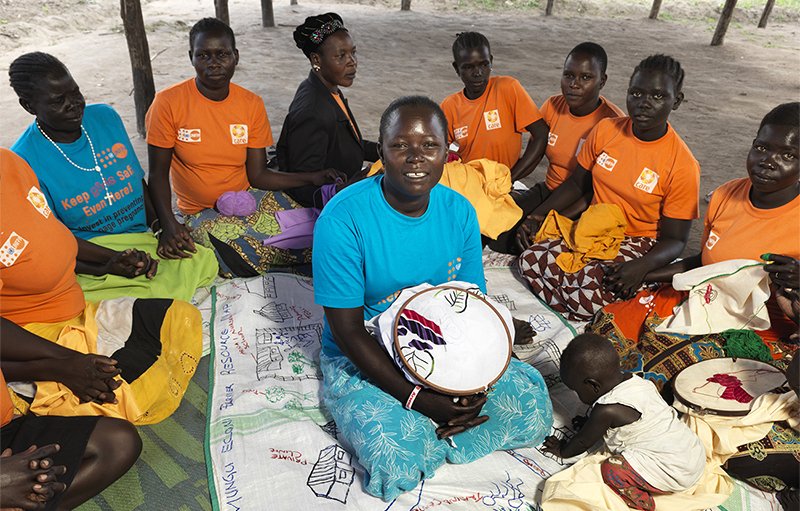 The refugee settlements are like nothing I've ever seen before. When refugees arrive, they are registered, vaccinated, given a hot meal, given the right to work, and allocated a plot of land to settle on – they are even given resources to begin constructing their new home.
And the Ugandan Government allows them to stay for as long as they like. This does not feel like a refugee camp. My team is visiting one settlement to meet with a women's group that, with CARE's support, have formed an embroidery business.
We pull up next to a large white tent, and the women's group comes pouring out to greet us. They are dressed in matching T-shirts, and sing us a song of welcome they have written especially for us: 'Our visitors from CARE, we're happy to receive you, today's a wonderful day, we're happy to receive you!' They lead us, still singing, into the tent and we sit on plastic chairs covered with pieces of cloth, which they have embroidered with flowers.
We are officially welcomed by Joyce, the chairwoman of the group. Back home in South Sudan, she was a government agricultural officer. We ask the other women what they used to do back home: one was studying electrical engineering, one was a soap maker, a teacher, a midwife… the range of skills among these women is astounding. Joyce took the initiative to form this group in July 2016. In the year since they have met every Tuesday and Saturday without fail.
"For the first few months we sat together to counsel each other on issues we were facing in our homes and the trauma we had gone through to get here," explains Joyce. "For a long time, we thought that we could go back to South Sudan. Some of us tried to go back but it was impossible. We were in denial that we would stay here for a long time, but now we are looking to the future."
"When we arrived here, we were like children who could only crawl; we needed everything done for us. Over the past year, we have worked together and now we stand upright, with one foot on the ground because of the support CARE has given us. We just need a little bit more support so that we can stand proud with both feet on the ground."
The group sells single bed sheets for $8.75, and doubles sell for $10. They are making enough to buy medicine and school supplies for their children. They have formed a savings group which they all contribute to, and loan the money to group members with a small interest rate. They've saved about $100 so far, and are hoping that eventually, the savings group will be able to fund startup costs for different types of businesses.
Being in this group has made a huge impact on the way these women live and work together, and is proof that when governments are as accepting as Uganda's, and when agencies like CARE are able to support women starting over, a brighter future for refugees is indeed possible. When we announce that it is time for us to leave, they break into another song, their harmonies another demonstration of how well the group works together.
'Together, we're moving on…to a better day.'