February 12, 2018
Posted by:

WebAdmin

Category:

News
More than 14,000 refugees, the large majority women and children, have fled the Democratic Republic of Congo (DRC) to Uganda since December 18th 2017, following increased conflict, according to figures from Government of Uganda and UNHCR, said agency CARE International.
Congolese refugees at Sebagoro landing site
Most refugees arrive through the Bunagana border point in Kisoro district, South Western Uganda but some even brave the dangerous waters of Lake Albert to escape the even greater dangers in DRC. The majority of refugees are children (54%).  
CARE International staff who conducted a rapid assessment last week explain that while initially more women sought refuge in Uganda, more men have started to arrive in the last week. 
Delphine Pinnault, CARE Uganda Country Director, said: "The use of sexual violence against women and girls in DRC must stop. The world cannot stand and continue to watch and accept what is happening.
"Women, girls and civilians are hunted down by out of control armed groups, forced to abandon their loved ones behind when they cannot flee fast enough, devastated by physical and emotional pain due to assault, rape, loss of friends and families. 
"I have been working for the protection of women and girls in DRC for two decades now. It is high time we all come together to denounce the massive abuses and demand protection of DRC's citizens and women and girls in particular."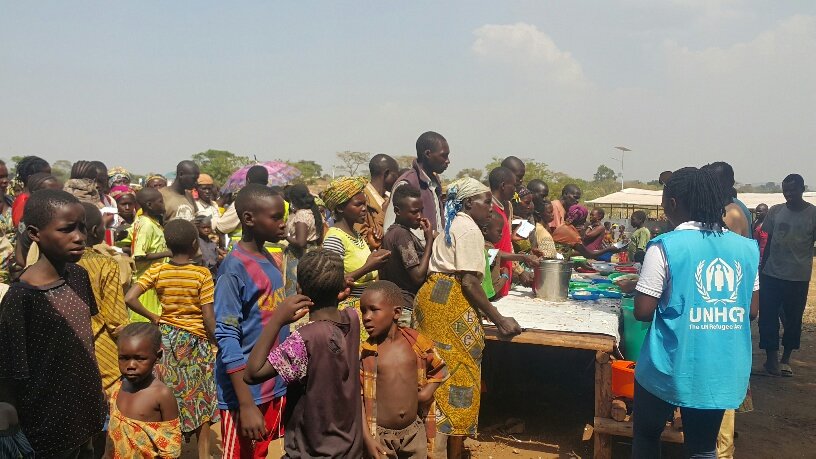 Waiting for a hot meal at Kagoma reception center
An official at the Nyakabande Transit Center in Kisoro District reported that nine out of every 10 women were raped, sometimes more than once and sometimes by gangs, inside Congo but also as they fled to Uganda. "All these women who make it here were victims of rape and other forms of gender based violence. 99% of the pregnant women in this camp will not be able to single out the fathers of their babies, because they have been raped by so many men."
CARE has also found that:
Refugees have reported being forced to pay armed groups to cross the border into Uganda;
Some refugees have been executed for attempting to leave DRC;
Refugees have reported that the current situation in DRC includes armed groups burning down and pillaging villages, torching houses, shutting down schools, hospitals and churches, forcefully recruiting young men, abducting and kidnapping innocent citizens, raping women and girls; 
Many families have become separated during the journey to Uganda, due to the difficulty of staying together while being pursued by armed groups;
Refugees have often had to leave behind disabled and elderly family members and children who were unable to run away from armed groups.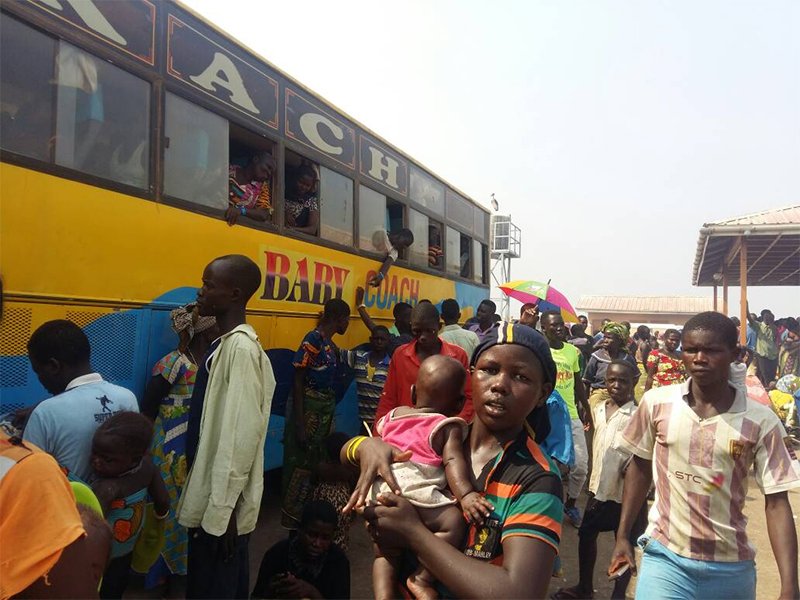 Boarding a bus to a brighter future
Evelyn's testimony, Kyaka II settlement camp, Kyegegwa District
"The sight of my husband being killed is still fresh in my mind. They tied his hands in his back and shot him in the head" says Evelyn. "That same day, I started planning my escape from our village. I was so scared because many people had been killed by the armed groups while trying to flee". 
Fleeing DRC means undertaking an extremely dangerous journey. Like many refugees around the world, people are left with an impossible decision: stay and probably be killed, or risk their lives on the arduous journey. 
"I had to flee mainly during the night and try to avoid any contact with any militia and government soldiers", Evelyn continues. She was lucky to reach the shores of Lake Albert, which borders Uganda. But she had to pay 60,000 Uganda shillings to be smuggled across the lake into the neighbouring country. 
 
"Life has been extremely hard for us. Sometimes I ask myself why we had to go through these killings. We are lucky to be here but we all have families and friends still stuck in DRC". 
Testimony: Thomas, Nyakabande Transit Center
Thomas is a refugee from Rutshuru town in North Kivu province, DRC, and has been resettled in Uganda. He is still finding his feet in the new settlement together with his wife and one son. 
Thomas and his family have been allocated a piece of land and materials to build a temporary shelter. "I arrived two weeks ago and was taken to the transit center. I have been resettled but I am still so sad…. I have seen so much pain and suffering and I never want to return", Thomas explained. I had four children. Only one made it with my wife and I across Uganda.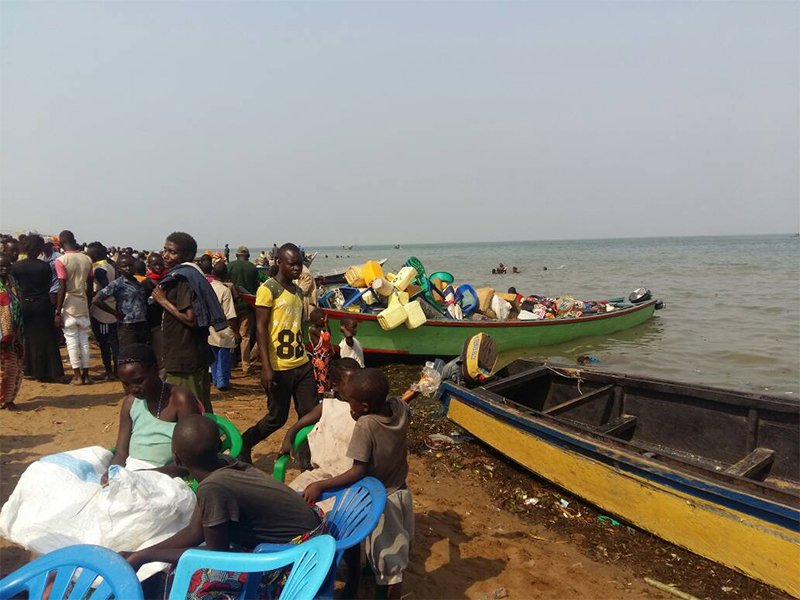 Men, women and children alike are affected
"My three other children did not make it across. We ran and they got lost and I assume they are dead", he added. "They were 4, 6 and 9." 
Stories of separated families like this are common in the settlements.  
"All the women you see here were raped on the way here and if they resisted they were executed", Thomas said. 
"Some refugees have managed to be reunited with family members who were separated", he added.
"I hope someday that I would be reunited with my children. If not all three, at least one. However, I know this is unlikely to happen. I am sad that I cannot even bury them if they are dead", he said. 
With limited agencies and organisations responding to this refugee crisis, facilities are stretched, transit centers overcrowded, and sanitation poor.
Uganda has a population of nearly 1,4 million refugees, of whom 1 million from South Sudan and nearly 250,000 from DRC. 
Most of the displacement from DRC is from communities in Rutshuru, Masisi, Goma, Beni and Uvira districts;
The districts of Kanungu, Kisoro and Bundibugyo in Western Uganda have experienced a massive upsurge of refugees from the Democratic Republic of Congo fleeing violence;
Currently refugees are taken to Kyaka II settlement in Kyegegwa District and to Kyangwali settlement in Hoima district. Kyaka II is an 81 square kilometers, divided in 9 zones and has 26 administrative units also known as "villages". 
Before the most recent influx that started on 18th December 2017, there were 26,000 resettled Congolese in Kyaka. At the end of January, the settlement has already reached 30,717 refugees.  An Office of the Prime Minister official managing the settlement said "Based on the trend we are seeing, we are planning to ensure that we can accommodate up to 100,000 refugees".
In Uganda, it is the Office of the Prime Minister (OPM) that is in charge of managing disasters, including refugees, with support from UNHCR.  After the transit center, refugees are sent in convoys to settlements' reception centers where they are registered, given hot meals, and undergo medical screenings. 
Based on Uganda's refugee policy, refugees are then allocated plots of lands and materials to construct a temporary shelter as they settle. They are then further allocated agricultural land to enable them to cultivate. 
But for many refugees, their trauma is often too big to think of rebuilding their lives in Uganda. The CARE team found that trauma levels are very high and that there is urgent need for counseling services to reach the refugees, particularly the many victims of sexual violence and rape. 
For more information or to talk to a spokesperson from CARE please contact Edward Ahonobadha on edward.ahonobadha@care.org or +254 724044770