CARE Takes on the Charter Of Change Coordination Role
February 17, 2022
Posted by:

WebAdmin

Category:

News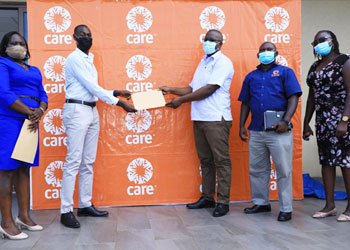 CARE International in Uganda has received instruments of power as the coordinating agency of the Charter for Change (C4C) Working Group in Uganda. Michael Tugyetwena, CARE's Operations Director received the instruments from Henry Muyanja, the Executive Director Street Child, (the outgoing coordinating agency) in a modest coordination role handover event held at CARE Head Office in Kampala on January 11th, 2022.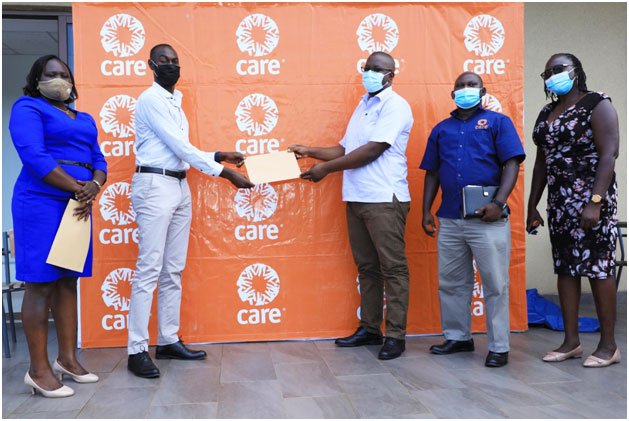 Third Right: Michael Tugetwena, CARE's Operations Director receives a Handover Report and C4C Documentation from Henry Muyanja, the Executive Director of Street Child.
Speaking on behalf of CARE Uganda's Country Director, Tugyetwena pledged support towards Advocacy and Visibility of the Charter for Change (C4C) Working Group in Uganda and CARE's Commitment to Localization.
"CARE is already committed to Localization with a focus on partnership with mutual respect. As Lead Partner of the APEAL Project, CARE has brought on board a number of local organizations in adherence to the Partnership pillar" said Tugyetwena. He highlighted the lack of integrity, failure to professionalize their operations and the attitude of being contend with average performance as a major challenge to the localization agenda in Uganda and urged members to be keen on these issues and come up with a widely acceptable quality control and feedback framework for local NGOs.
Miriam Tusiimire the Programme Manager Emergence, said CARE is committed to localization and noted that CARE's humanitarian action is aligned with the localization agenda. She emphasized that localization should be tailor-made to suit a locally-led response.
Francis Iwa, the chairperson of the steering committee, Humanitarian platform of National Organizations noted that it is important to map C4C endorsers both geographically and thematically because it will greatly improve coordination of the working group. He observed that although the working group has presence through individual organizations, due diligence should be emphasized.
The event brought together 13 representatives from member organizations including Canada Africa Partnership -AIDS Uganda ( CAPAIDS) and African Women and Youth Action for Development (AYWAD), who are the current sitting chairperson and co-chairperson respectively.
With funding from European Union Civil Protection and Humanitarian Aid (ECHO), CARE as the lead for the APEAL Consortium will coordinate and take lead in the organization of all joint events at national and regional levels; to enhance APEAL's visibility, showcase its localization milestones, and influence discussion on the implementation of relevant refugee protection policies and frameworks for the protection of refugee women and girls' socio-economic rights, promotion of a life free from violence and for women to have peace and security.
Extreme right– Miriam Tusiimire, CARE's Programme Manager- Emergence presenting a brief on CARE's committment to the Localisation Agenda.
C4C is an initiative led by both national and International Organizations (INGOs) to localize the "Grand Bargain Agenda" through practically implementing changes in the way the humanitarian system operates, to enable a more locally led response. The Ugandan C4C chapter is comprised of over 70 CSOs, CBOs, NGOs, and INGOs working in the humanitarian sector.
The "Grand Bargain" is a recommendation made during the 2016 World Humanitarian Summit (WHS) by the High-Level Panel on Humanitarian Financing to close the financing gap between donors and humanitarian organizations in humanitarian aid. This recommendation birthed C4C which is hinged on eight commitments that INGOs have agreed to implement in the global humanitarian system. These include direct funding, transparency, partnership, advocacy, equality, recruitment, support, and promotion.